Rudy Farias Was Reported Missing in 2015, Police Discover He Was Held Captive by Abusive Mother All This Time
Last week, a Texas man was "found" after allegedly being missing for eight years. It was on March 6, 2015, when 18-year-old Rudy Farias was out walking his dogs near his family's home in northeast Houston and disappeared.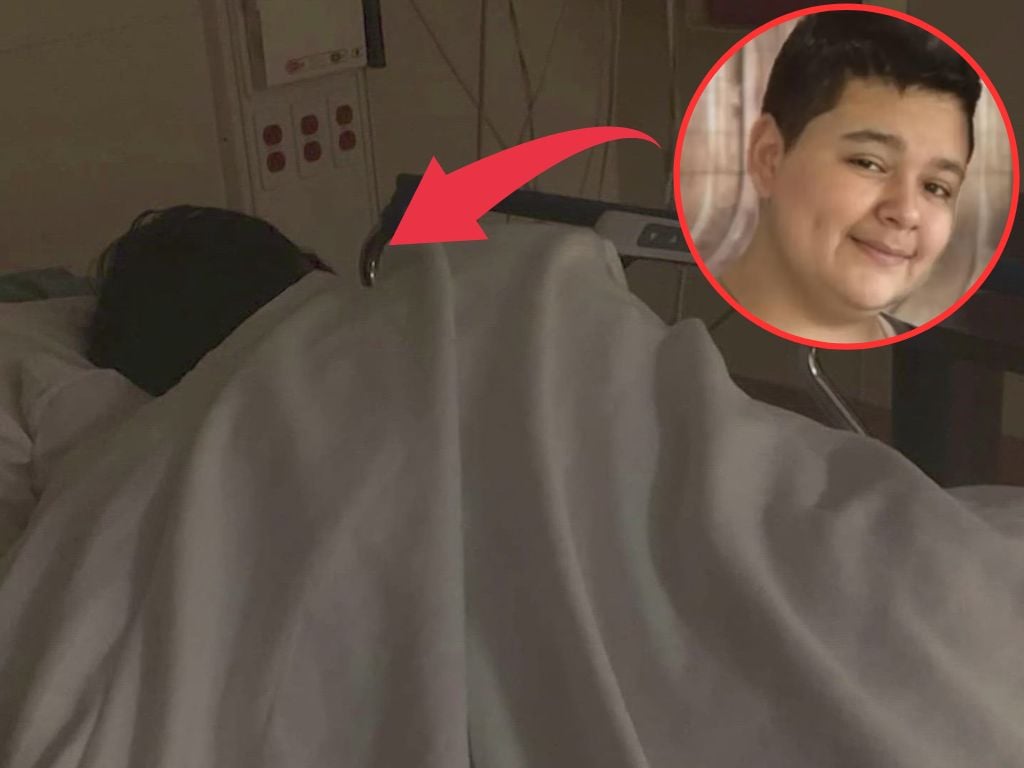 On Thursday, June 29, Rudolph "Rudy" Farias IV – now 26 – was discovered after police received a phone call that a person was unresponsive and lying outside a Houston church. It was unclear where Farias had been for eight years. 
Farias Was Found In Very Bad Shape
Janie Santana, Farias' mother, claimed in a statement, "What we do know is at the time of recovery, a good Samaritan located him unresponsive and immediately called police." She continued, "My son Rudy is receiving the care he needs to overcome his trauma but, at this time, he is nonverbal and not able to communicate with us."

She also said that Rudy was found with cuts and bruises covering his body and blood in his hair. She believes he was abused and beaten.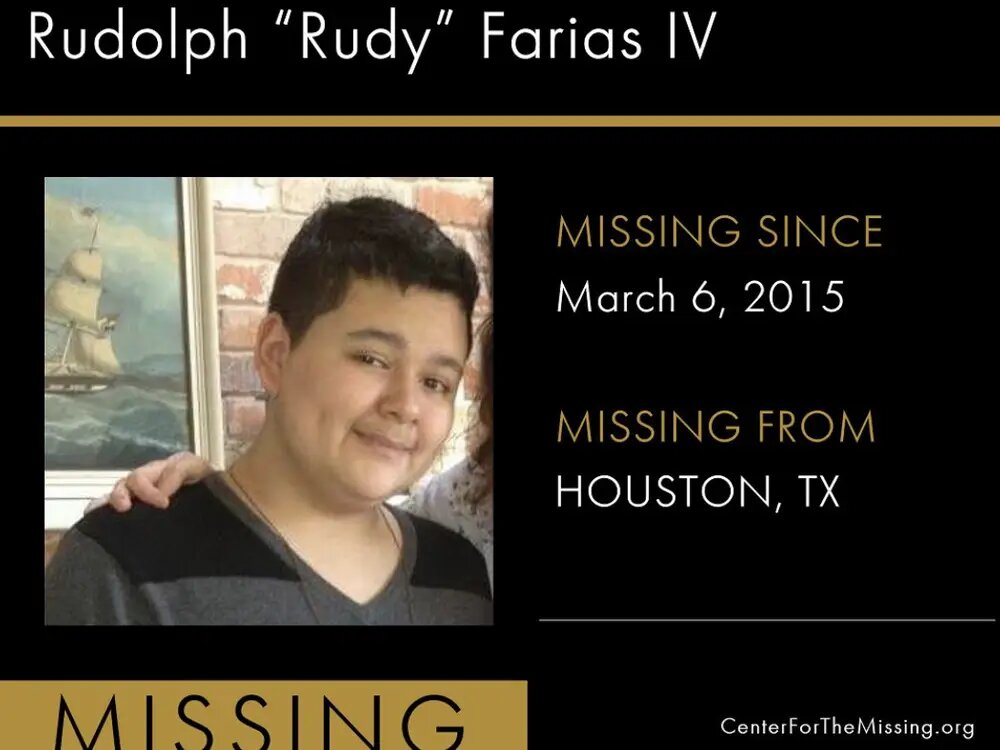 Bizarrely, Santana's neighbors said that Farias didn't disappear and wasn't missing. They said they had seen him many times over the past eight years.
He Had Endured Abuse For 8 Years
Quanell X, a community activist, spoke to reporters on Wednesday after he talked to Farias who said that he was never missing but was living with his mother. The story gets even more disturbing – he shared that he was dealing with years of abuse and trauma under her supervision.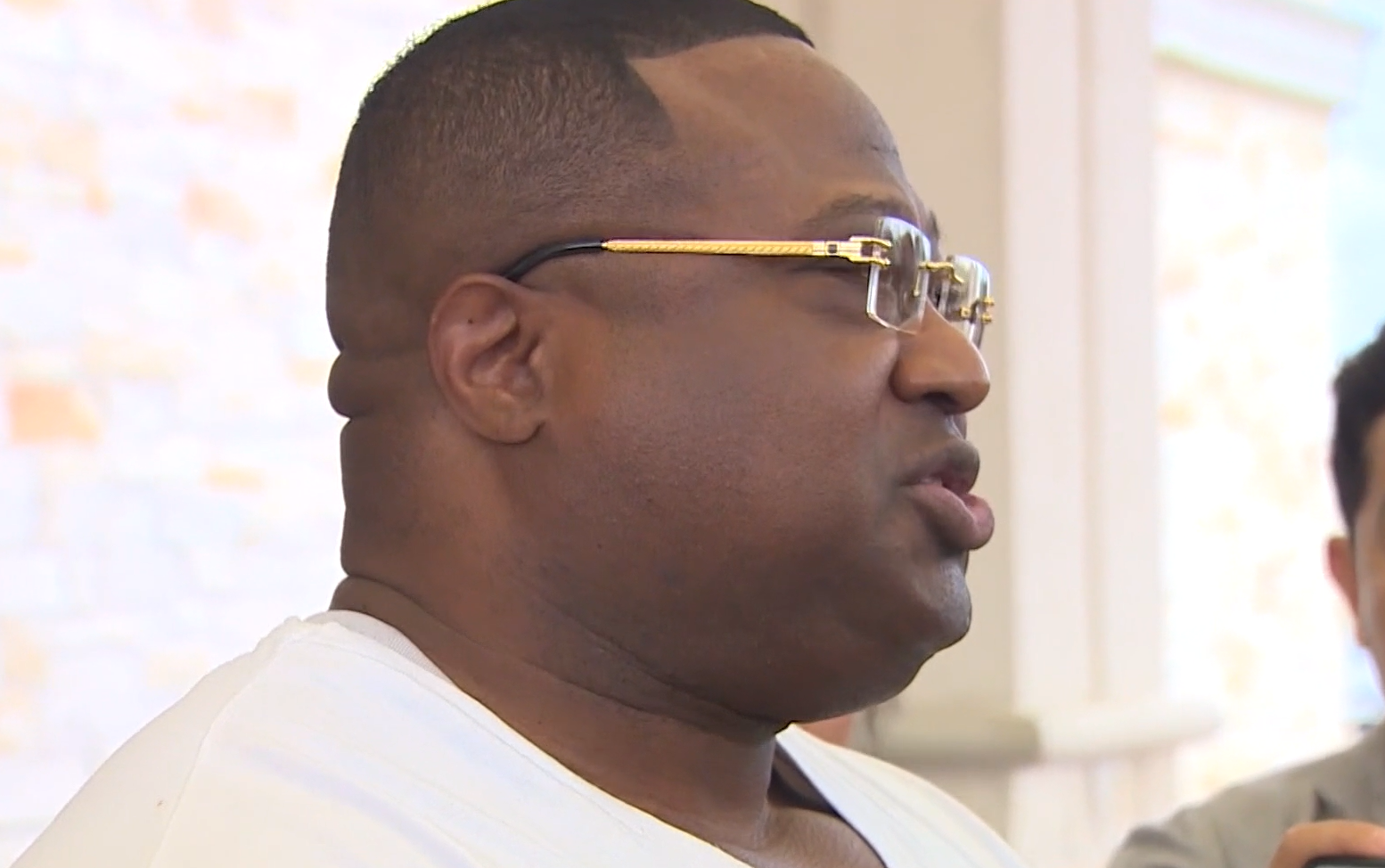 Santana invited X to go to a hotel in Humble where she and Rudy were having meetings with investigators. When Santana wasn't in the room, Farias revealed that he had been sexually abused and drugged by Santana all this time.
Farias' Mother Treated Him Like A Slave
Furthermore, Farias claimed that he was his mother's slave. She would force him to do her work, sleep with her and "play daddy." Farias was also given hallucinogenic drugs. 
In a press conference on Wednesday, X said that "No child should ever be treated like that by his own mother." X also shared that Santana would "try to sneak out of the bed and sometimes hide under the bed, but she told him he had to be her husband." Farias said he would be forced to sleep in her bed without clothes on.
Santana Said Rudy Was Kidnapped And Brought To Mexico
As of now, Santana hasn't been charged with any offenses or arrested. She told Fox 26 in an interview off-camera that Farias was kidnapped, bagged over the head, and brought to Mexico in 2015. She also said that he had walked back to Houston.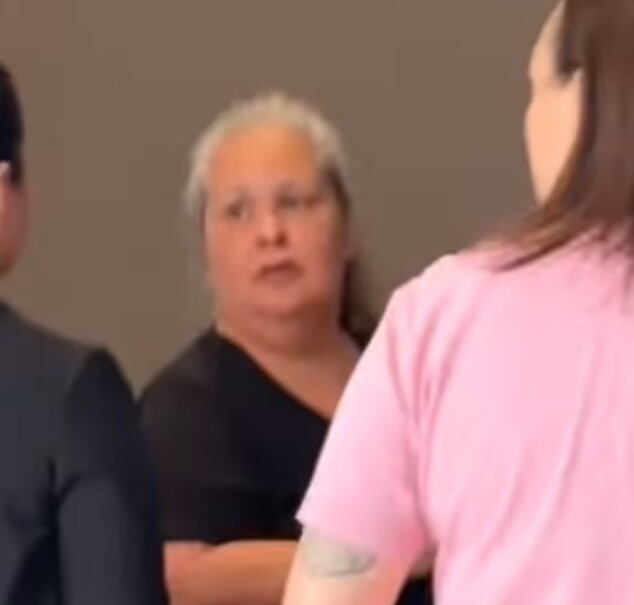 Tired of his mother not respecting or honoring his boundaries and "living like a slave," Farias escaped from his mother's home. According to X, he returned after two days and his mother said that he would be arrested if the police found him. He additionally claimed that she would hide him from investigators when they came to the house.
Scars Were All Over His Body
X continued to reveal more saddening truths about Farias: "That young man's body have scars all over it… all type of scars on this kid and he said that she often locked him in the room, that she would give him drugs and lock him in the room."
Farias would sometimes visit neighbors under a different name "Dolph." Santana believed that people would simply forget about the case after so many years and that nobody would be able to figure out the truth.
An Aunt Of Farias' Went Out Of State To Look For Him
The only reason Farias was found was because he had crashed his mother's stolen car in his attempt to escape.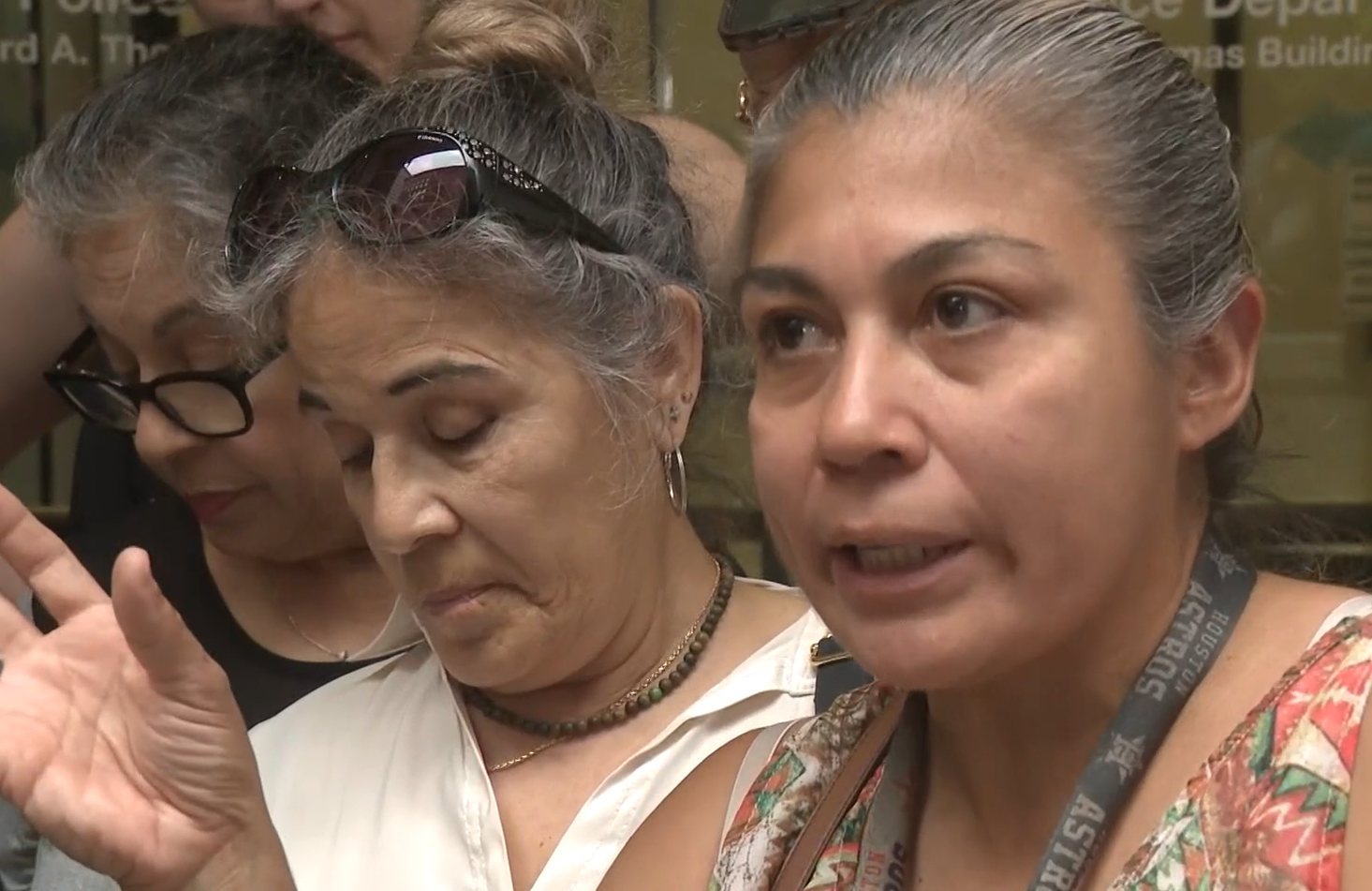 Some members of Rudy's family were shocked by the horrific allegations. One of Farias' aunts, Sylvia Lopez, shared with KHOU II she didn't see Rudy since the day he was reported missing. She even traveled out of Texas with Santana to search for Rudy. Lopez said, "She had me out there in California thinking that they had found somebody that looked like Rudy in California. And I went all the way with her."
Santana Could Possibly Be Arrested
Corley Peel, a reporter for KPRC 2, posted a video filmed by neighbors that talked with Santana. She said in the clip, "Now they want to arrest me because they said I was hiding him."
After Wednesday's press conference, the Houston Police Department shared a statement on Twitter that they have no comment regarding the interview with Farias and Santana. They are also not "in a position to discuss specifics of the interviews or if the content being released is entirely factual."
Investigators Knew Santana Wasn't Telling The Truth
Santana hasn't responded to the efforts to contact her. It's also uncertain if she was arrested or if a lawyer is representing her. Throughout the years, the four private investigators who worked on the Farias case felt that his mother was deceiving them.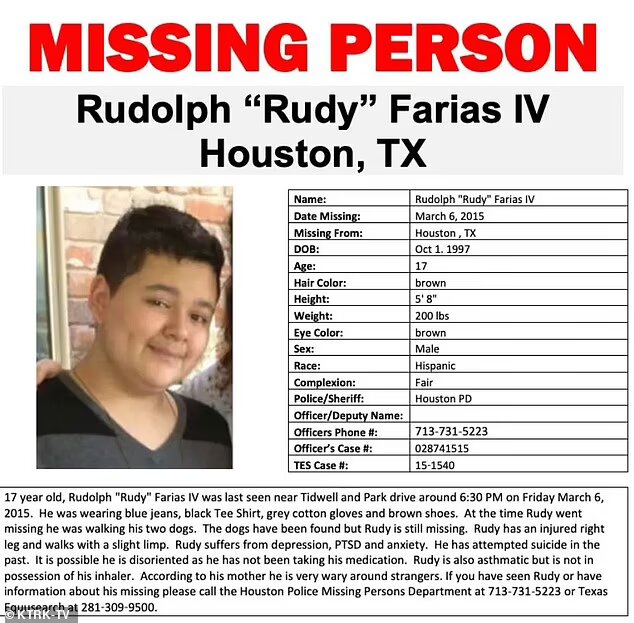 Texas EquuSearch, a Texas non-profit organization involved in the search for Farias since 2015, emphasized that he had suffered from mental health issues before he disappeared. A Facebook post from Texas EquuSearch in 2015 stated that "Rudy has an injured right leg and walks with a slight limp. Rudy suffers from depression, PTSD, and anxiety. He has attempted suicide in the past." 
A Miracle
Tim Miller, the director of Texas EquuSearch, said, "How did this happen? We believe in miracles and this certainly was a miracle. Miller continues, "I can't even tell you how many times we searched and how many leads and tips came in and they just kind of faded away and now all of a sudden, this."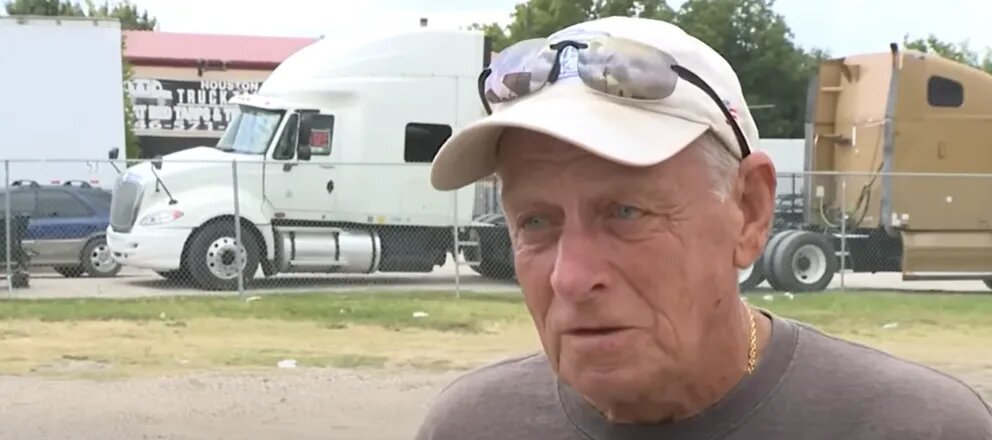 Per Miller, it's clear that there are still many questions remaining and "a lot to investigate to kind of see what happened, where it happened, and how it happened."